Vervoer in Genève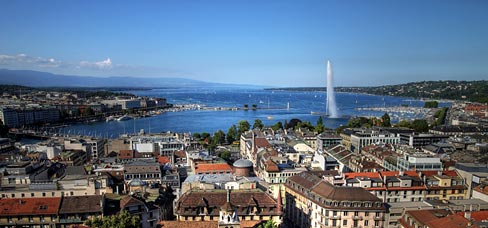 Genève is een relatief kleine stad en u kunt zonder problemen de meeste bezienswaardigheden en wijken te voet bezoeken. Wijken zoals het charmante, unieke Carouge en het hoofdkwartier van de VN liggen op slechts 30 minuten lopen van de stadskern. Als u deze bestemmingen iets sneller wilt bereiken, kunt van mei tot oktober gratis een fiets huren. U hoeft alleen een borgsom van 50 Zwitserse frank te betalen. Het vertrekpunt is de Place de Montbrillant

Het spreekt vanzelf dat u ook de bus of de tram kunt nemen. Dat is een efficiënte en goedkope manier om de stad te ontdekken. Als u niet ver van het centrum van Genève moet zijn, moet u in de zones 11 en 12 blijven, die op de transportkaarten met oranje worden aangeduid.

Bij elke halte kunt u een kaartje kopen en dat moet u doen voor u op de bus of tram stapt. U kunt in Euro of in Zwitserse frank betalen. Als u slechts een paar haltes moet reizen, kost een kaartje 2-3 Zwitserse frank. Een kaartje dat een etmaal geldig is, kost 10 Zwitserse frank.