Zien en doen in Miami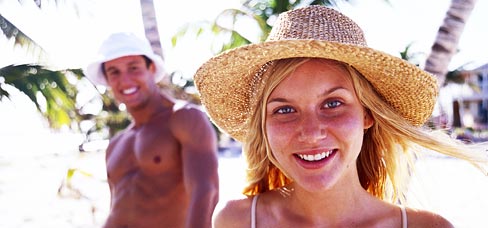 In Little Havanna, Calle Ocho, South West 8th Street tussen South West 12th en 16th Ave, vindt u een mini-versie van Cuba. Hier liggen ontelbare gezellige, kleine restaurantjes en Cubaanse sigarenrollers zijn altijd druk bezig om dikke sigaren met veel arom te rollen.

Gusman Center for the Performing Arts, 174 E Flagler Street, bij North East 1st Avenue in Downtown, Hier kunt u vanuit comfortabele fluwelen stoelen van Shakespeare genieten. Het concertgebouw werd ooit gebouwd om stomme films te vertonen. www.gusmancenter.org

Fruit & Spice Park, 248 01 South West 187th Ave (op South West 256th Street, in Homestead). Een botanische tuin met een indrukwekkend aantal verschillende exotische vruchten en kruiden, waarvan u het merendeel ongetwijfeld nog nooit gezien heeft.

Art Deco Historic District in South Beach dat van 5th Street North tot Dade Blvd en van Atlantic Ocean West tot Biscayne Bay loopt. Met zijn pastelkeurige huizen, palmbomen en neonreclames is deze wijk voor velen het symbool van Miami. Deze wijk kunt u het best te voet verkennen, zodat u er zoveel mogelijk uit haalt.

Ocean Drive. De perfecte plek om met uw voeten in het zand te zitten, van een drankje of een kop koffie te genieten en de mensen en de glimmende auto´s te bekijken. Ocean Drive is de levendigste straat van Miami, vooral ´s avonds en ´s nachts.

Collins Avenue, een fraaie mix van Art Decó-hotels, bars, cafés en kledingwinkels met trendy, dure designwinkels. Collins Avenue ligt op een straat van Ocean Drive naar het vasteland toe.

Museum of Contemporary Art, 770 North East 125th Street, op North East 8th Ave, www.mocanomi.org. Hier kunt u moderne kunst van plaatselijke, binnenlandse en buitenlandse artiesten bewonderen. De vaste tentoonstelling omvat werken van o.a. Roy Liechtenstein en Duane Michaels.

Bill Baggs Cape Florida State Recreation Area, 1200 South Crandon Blvd. Een prachtig natuurgebied met paden, bruggen, picknickplaatsen en een café. In het park kunt u o.a. kajakken, vissen en mountainbiken. Het gebied ligt op het eiland Key Biscane, ten zuiden van Miami Beach.

Miami Museum of Science & Space Transit Planetarium, 3280 South Miami Ave, op South West 32nd Road. Een ruimte- en wetenschapsmuseum van de hoogste klasse. Dit is de perfecte bestemming voor gezinnen met kinderen. Vergeet niet om ook buiten te kijken, daar kunt u de gevaarlijke dieren van Florida zien.